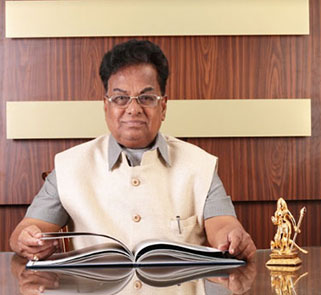 Col. Prof. Vel. Dr. R. Rangarajan
Chancellor
Col. Prof. Vel. Dr. R. Rangarajan, Chancellor of the Institution has a cherishing memory behind his success. By his absolute perseverance, he rose from an engineer in TNEB to a towering industrialist and blossomed into a doyen among educationists.
After graduating with honors in Electrical and Mechanical Engineering, he earned a Masters in Automobile Engineering. After a short stint TNEB he established manufacturing facilities for automotives and liners as original equipment to Ashok Leyland.
Having emerged as a successful and prosperous industrialist, he felt the urge to contribute something to make India stronger. He realized that creating knowledge asset would propel both social and economic development, national safety and security, he ventured into the educational sector, ably supported and motivated by his wife Dr. Mrs. Sakunthala Rangarajan, and he started a school in Avadi followed by three engineering colleges, two paramedical institutions and an arts and Sciences College in a matter of ten years. Since 1990, the cluster of educational Institutions was established under their trusts in Avadi, Chennai.
As Chancellor, he instituted Mahatma Gandhi National Merit Scholarships to ensure that the poor but meritorious are not denied such access. In order to ensure that every student of these institutions is industry ready, he has implemented many novel and unique programmes incorporated in the curriculum. By his personal intervention and perseverance, he has successfully penned MoUs with reputed Universities and Research establishments all over the world to enable faculty and student enrichment by faculty and student exchange programmes and Interactions with more than 2500 industrial establishments for compulsory industry internships for all engineering students and consultancy arrangements.
He has also arranged placement, for this purpose, to make every student employable he has built in a four year structured soft skill courses in the programme. The aim is to be building a highly enriched reservoir of managerial and technically qualified man power.
Realizing that the need for research and development, he established an exclusive research park with over 80 laboratories to conceive, nurture and develop joint research between industry and institutes. Vel Tech is India first deemed University to set up a telecom centre of excellence by the Ministry of Communication.
In recognition of his outstanding contribution to the society at large and the nation in the field of education, Madurai Kamaraj University conferred on him the honorary degree of Doctor of Philosophy in 2010 and the Ministry of Defense decorated him with the honorary rank of Colonel.