Freshman Engineering – Corporate Tour
VISAI 2024 14th International Project Competition
Vel Tech has a strong Institution-Industry Cell. This office has established Interactions with more than 3164 Industries / Institutes / Organizations and has 212 MoU Signed (45 MoU's are Functional last five years) organizations for various Academic and Research Activities such as Joint Degree Programmes, In-Plant Trainings, Internships, Projects, R&D, Consultancy, Industry Recommended Electives, Curriculum Updates, Corporate Talk, Corporate Tour, Facility Creations, Value Added Courses etc. An inclusive practice of Vel Tech Industry Relations is the Industry-Institution Interaction, Partnership, and Collaboration.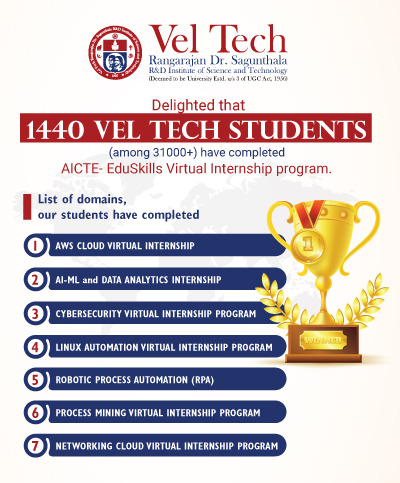 Interning with good PSU's, MNC's, NGO's and learning from their work culture is a dream for every Indian Student. AICTE Internships help Indian Students find internships they love and Organizations find best Interns on PAN India basis. Through its internship portal, AICTE has provided students with the perfect opportunity to emerge as a winner in these trying times. The website provides the perfect platform for students to put forth their skills & desires and for companies to place the intern demand.
Participating in AICTE- EduSkills Virtual Internship program,Vel Tech Rangarajan Dr. Sagunthala R&D Institute of Science &Technology is given AICTE Completion All India Rank as number :- *1(As per the number of Students Completed Course from your College) by Edu skill teams.(Email from Eduskill team with top 10 Ranking institutions with Vel Tech topping the list ) attached.
Contribution of Vel Tech Industry Relations
Makes available the updated database and profile of the companies (Large industries /MNCs/SMEs) and helps each student analyze and choose company of his specialization/interest for In-Plant Training/Student Projects.
Facilitates in curriculum improvement by way of periodical feedback and involving industry experts from the industries.
Organize events such as Hackathon / VISAI / International Conference etc. to inculcate a culture of product innovation and a mind-set of problem solving.
Work towards continuous improvement of faculty members by way of Faculty Training / Research and Consultancy/Training of employees in Industries.
Setting up Centre of excellence Facilities in collaboration with Government & Industries to promote Research Activities/Incubation Startups / Skill Development Programme (ASDC) etc.
Collaboration with Industry are made with the following objectives
The corporate tour is to provide an insight regarding internal working hierarchy of companies also it gives practical perspectives of work places
Acquaint Students with Emerging Technologies, work ethics
Exposure to better industrial and business practices in progressive economies.
| | | |
| --- | --- | --- |
| AY | No of Industries | No of Students Benefited |
| 2016-17 | 14 | 1448 |
| 2017-18 | 27 | 1261 |
| 2018-19 | 21 | 1087 |
| 2019-20 | 23 | 1038 |
The overall aim and main objectives of the training for these students to get exposure to the best practices in Industries
Provide Hands on Experience in real-time industry processes.
Putting them in front of the real time technologies and technologists.
Foster cooperation of Industry & Institutes
| | | |
| --- | --- | --- |
| AY | No of Students | No of Industries |
| 2016-17 | 472 | 76 |
| 2017-18 | 484 | 81 |
| 2018-19 | 462 | 54 |
| 2019-20 | 652 | 107 |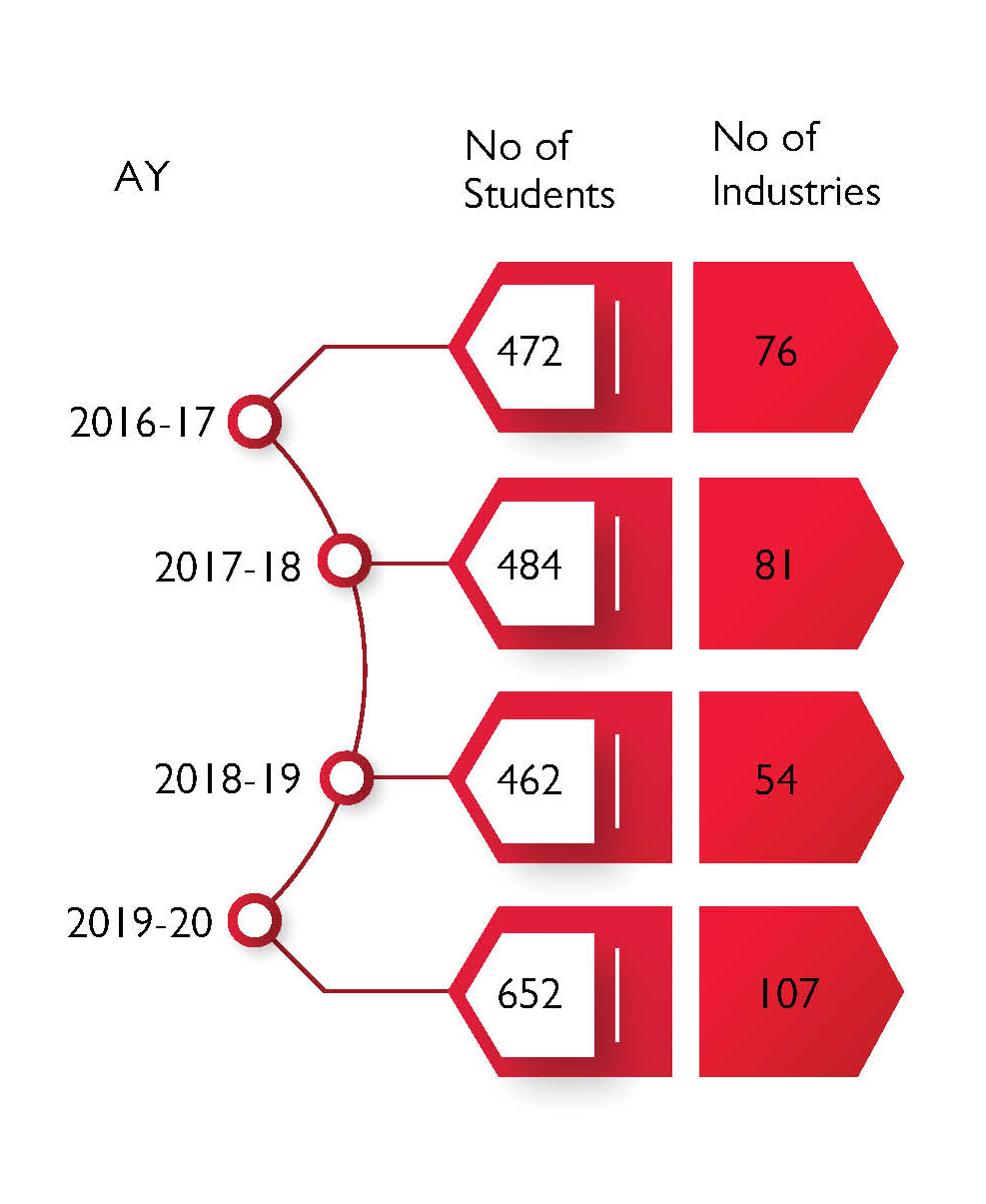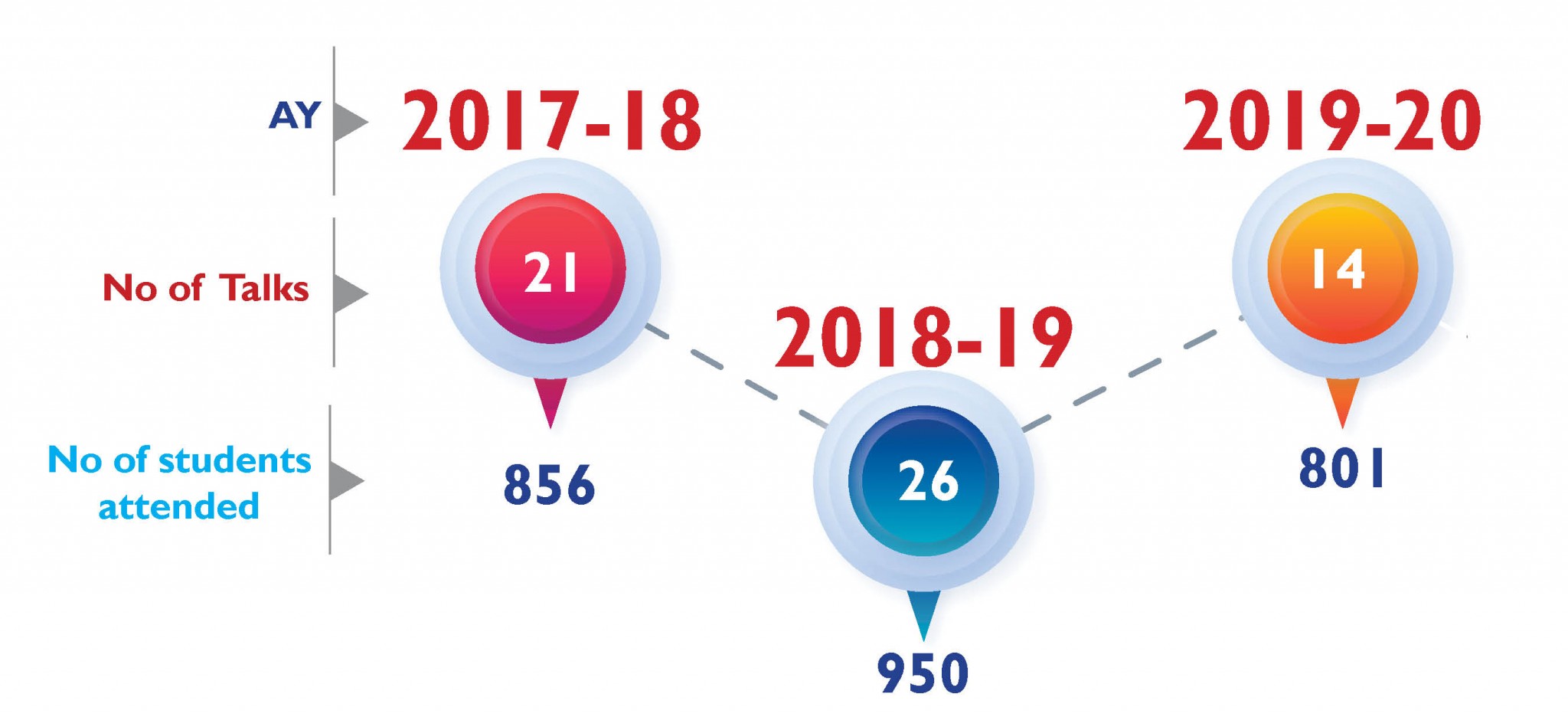 Industry Relations invite eminent experts from Industries working on emerging technologies to share their experience and stimulate a learning attitude inside the students towards the course by connecting the fundamentals learned in the course with the real time scenario at the industry.
| | | |
| --- | --- | --- |
| AY | No of talks | No of Students attended |
| 2017-18 | 21 | 856 |
| 2018-19 | 26 | 950 |
| 2019-20 | 14 | 801 |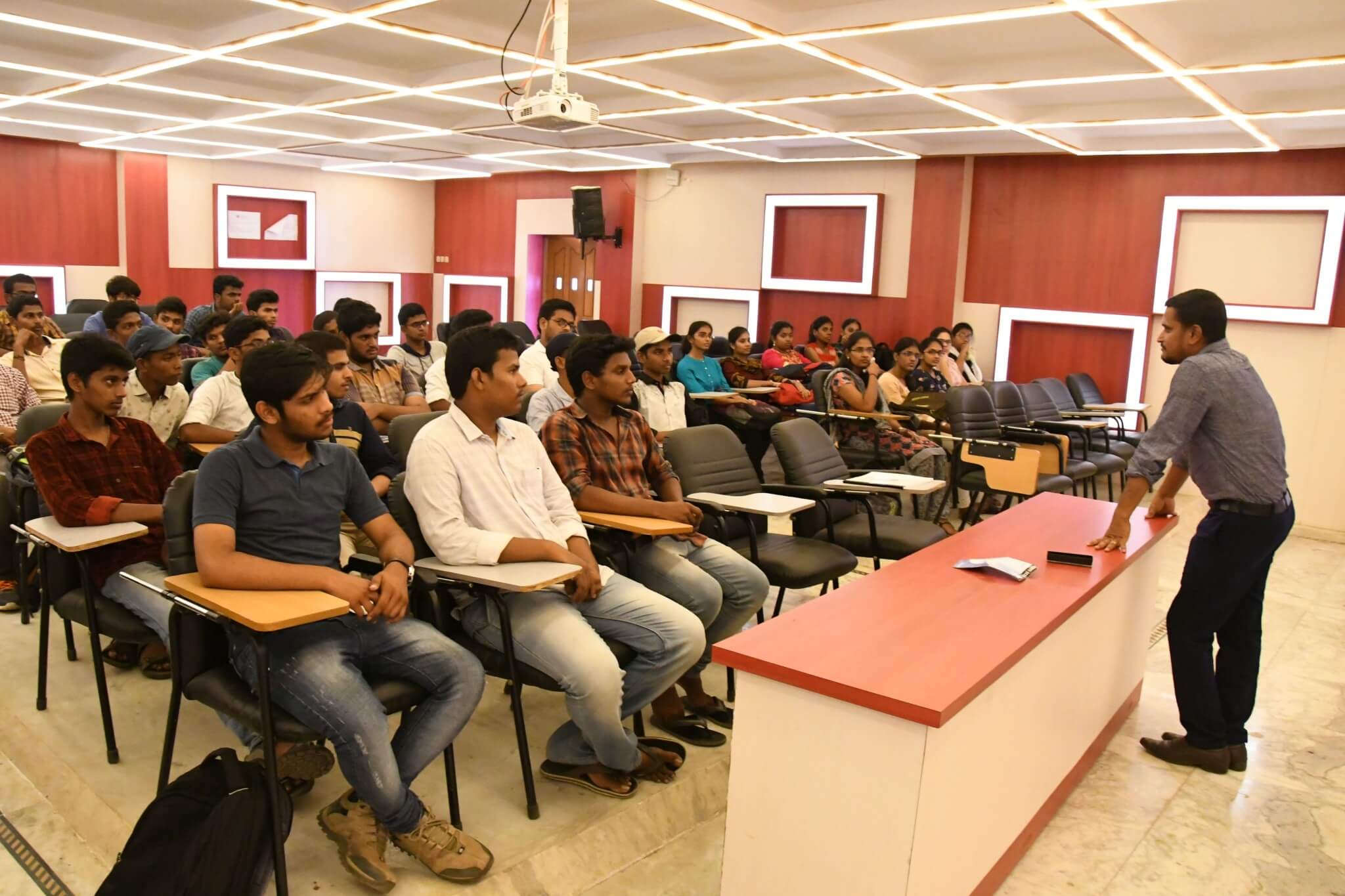 Mr. R.Rajesh
Deputy Manager – HR, R STALH PVT LTD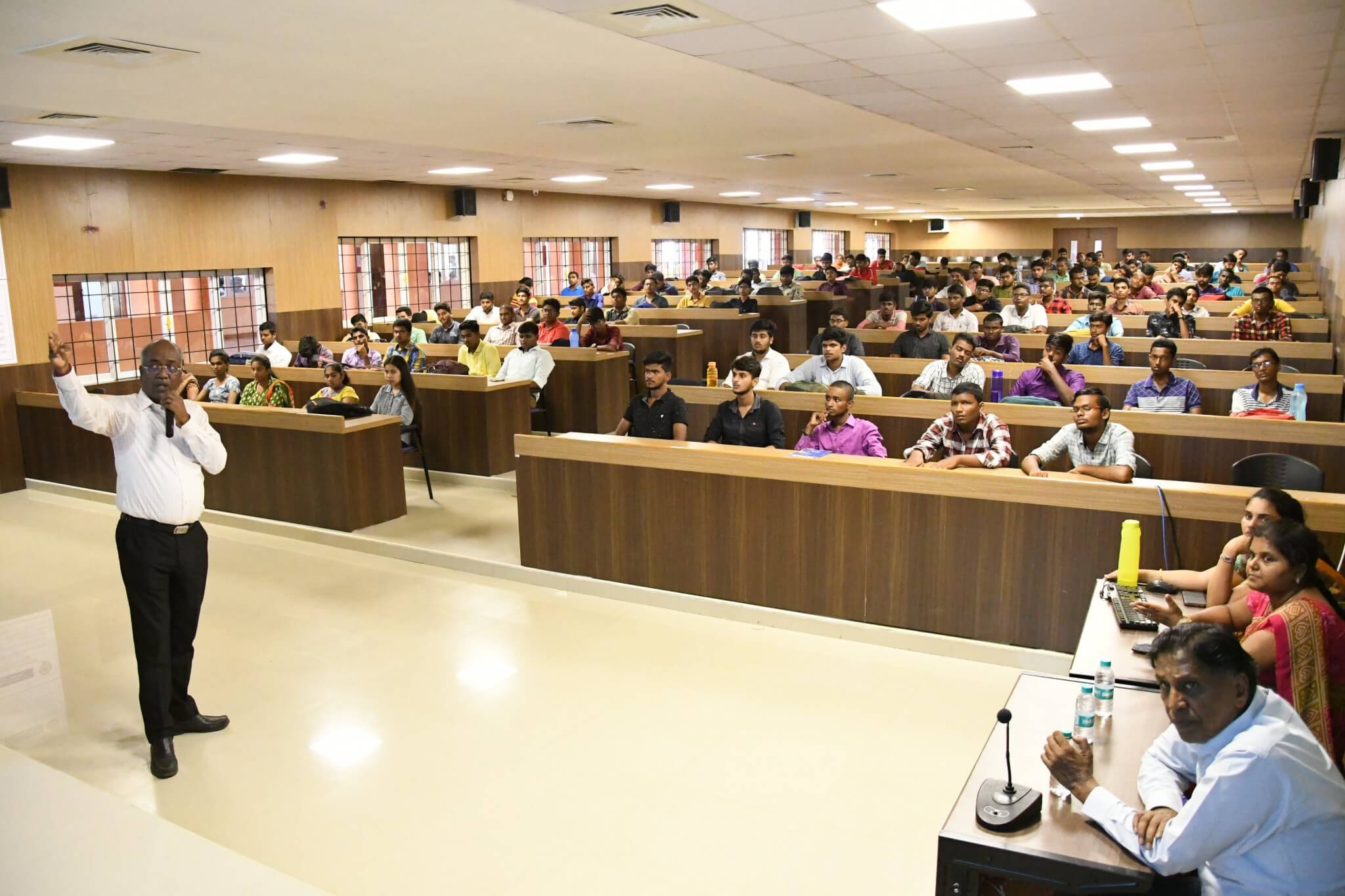 Mr. Pon Manivannan
Principal Technology leader, Head TSIC L&T Technology Services Ltd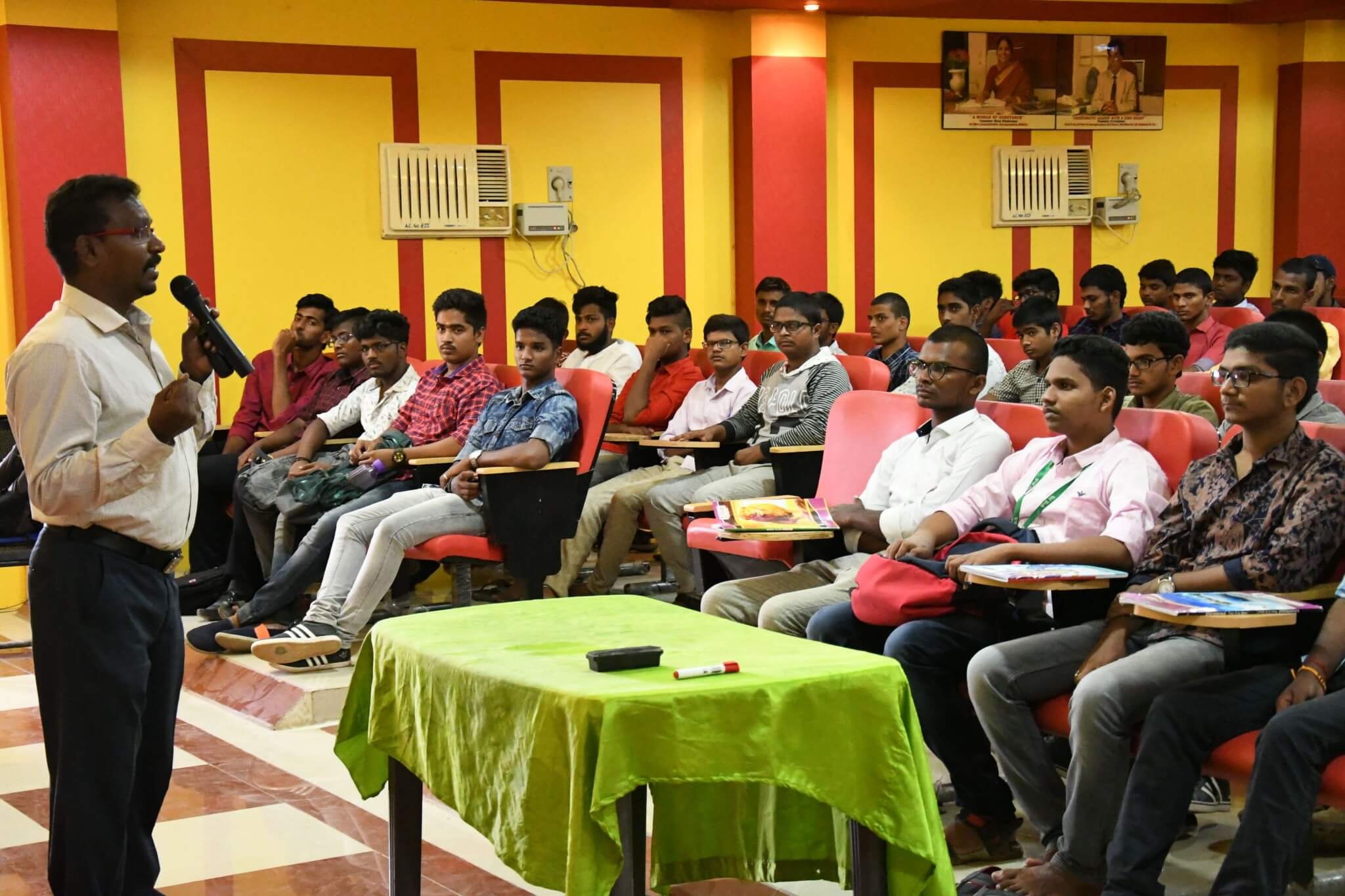 Dr. P. Kanagavel
Director & Head National Institute of Wind Energy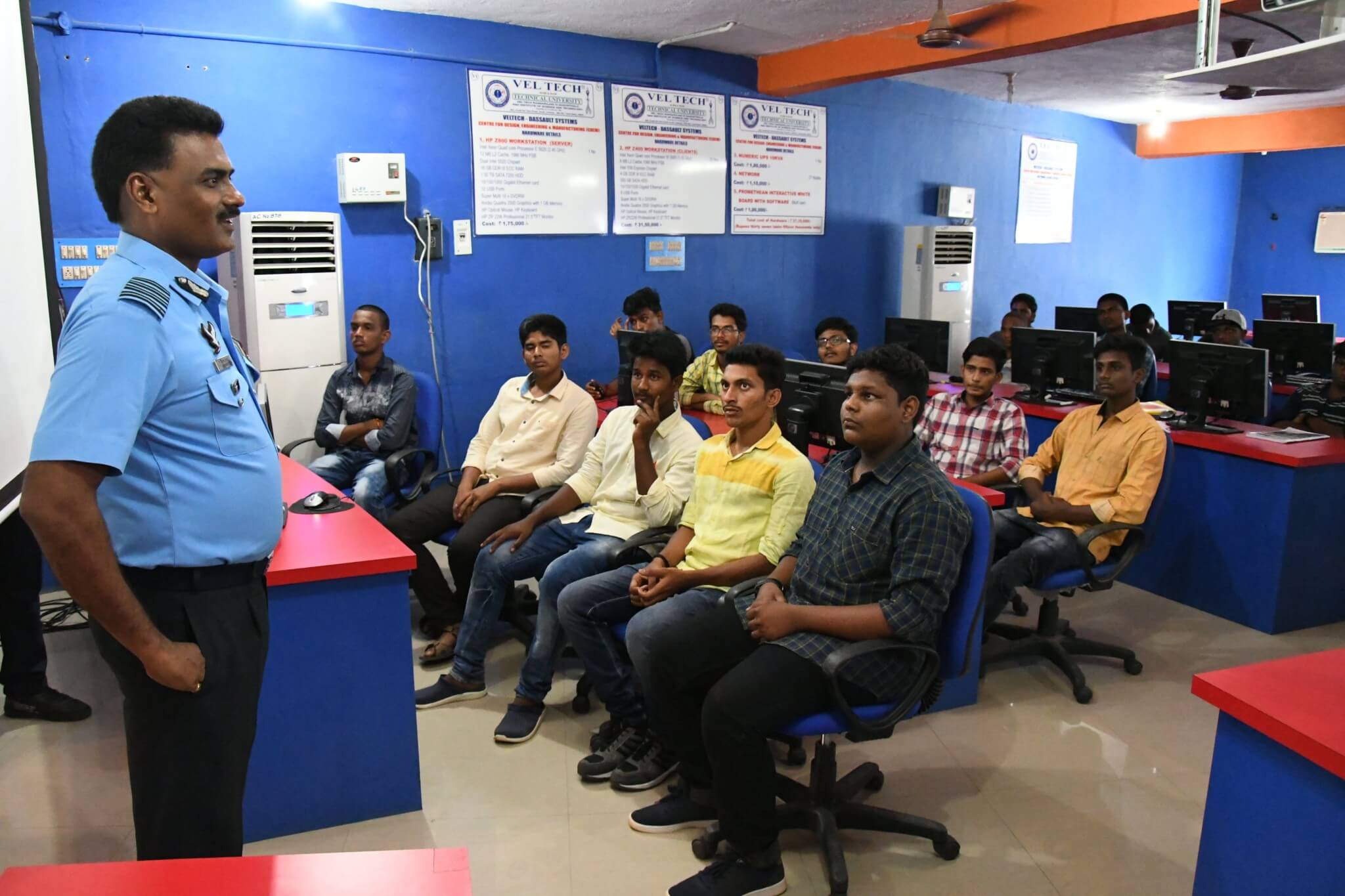 Mr. P R Prasad
Group Captain Indian Airforce, Avadi
Specialized Credit Course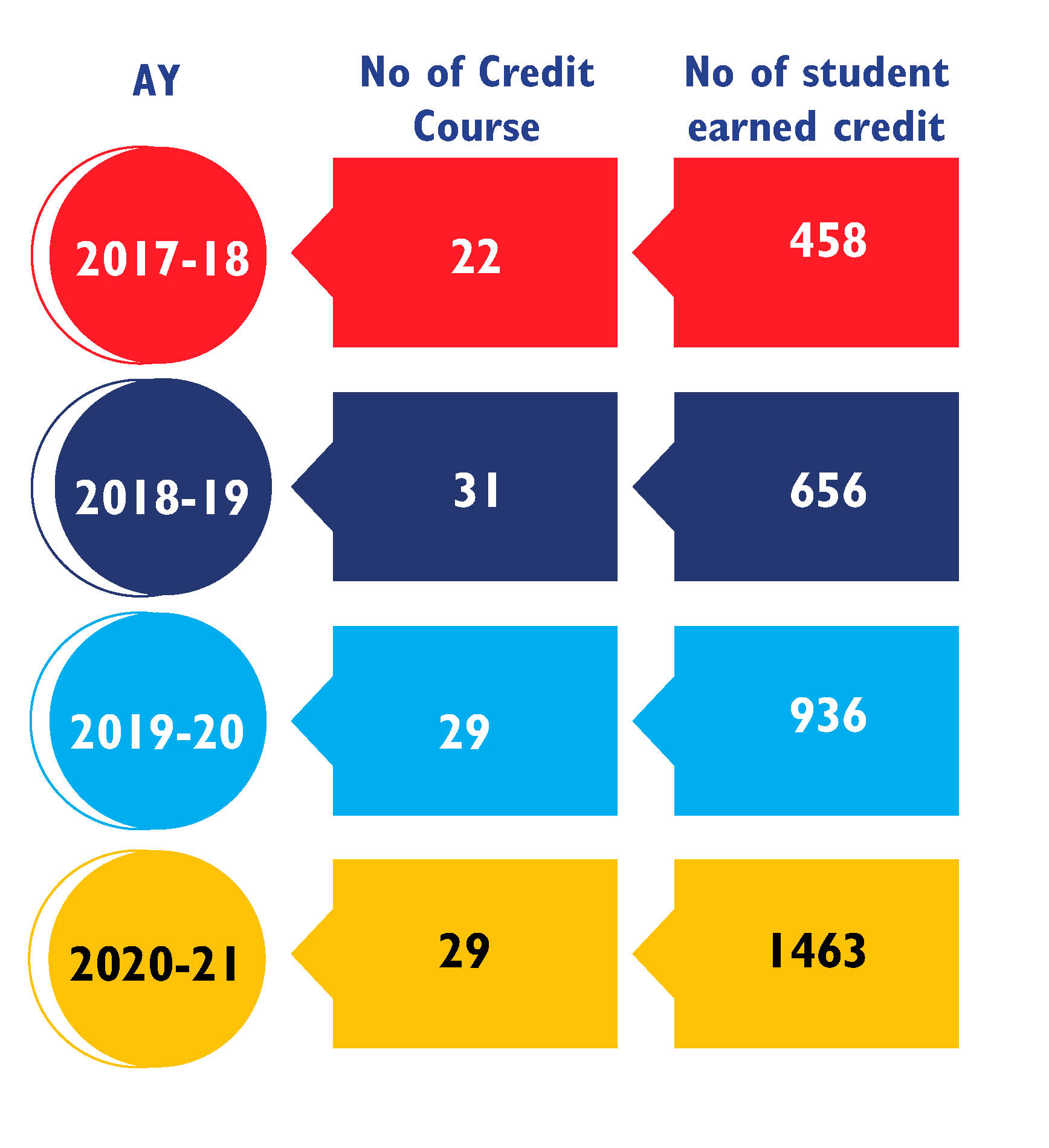 Industry Relations organize credit courses by eminent Professionals from Leading Industries on emerging and innovative topics to get an exposure on latest trends and technology with focus on career development, supplemental learning, lifelong learning, corporate eLearning & training.
| | | |
| --- | --- | --- |
| AY | No of credit course | No of Students earned credit |
| 2017-18 | 22 | 458 |
| 2018-19 | 31 | 656 |
| 2019-20 | 29 | 936 |
| 2020-21 | 29 | 1463 |
Project is an institutionalized process to bridge the gap between theoretical and practical knowledge. Students are provided with wide range of industry problem and a faculty for regular follow up till the desired results are achieved on project completion.
Benefits to students
Foster skills as sought by industries
Stipend during Internship.
Communication & managerial skills such as Teamwork, Leadership, Time Management.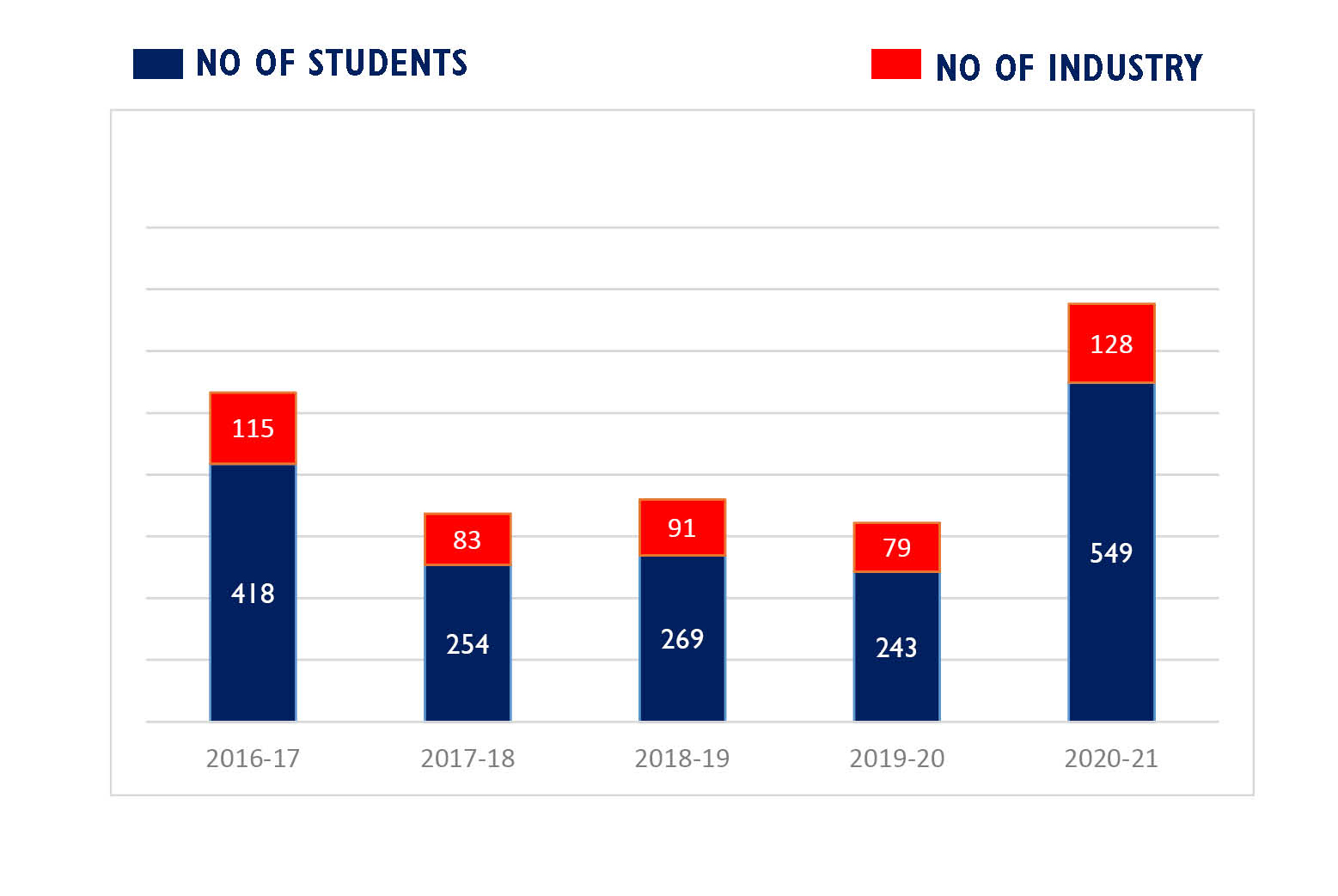 Institute established Centre of excellence with advance equipment facilities in association with industry partners to take up cutting edge research/ deliver consultancy services/ Training to students. The following are the labs established in vel Tech with the support of Industry partners,
Vehicle Control System Lab (In association with WABCO)
Engine testing facility (In association with ARAI, TAFE, Greaves Cotton, and Ashok Leyland)
3D printing facility (In association with Stratsys & Altem technologies)
AI Supercomputing facility (In association with Locuz and NVIDIA)
PCB Assembly Unit (Auckam Turnkey Solutions)
Production of Automobile Parts (ARCO Engineering)
3D Printing Lab (RP3D Products LLP)
VISAI International Project Competition and Exhibition: Every year this project competition was conducted on 24h Feb (The birthday of our beloved Founder Chancellor). This year we are conducting the 12th edition of this event.

Smart India Hackathon: Hosted the Grand Finale of Smart India Hackathon (Software Edition 2019, Hardware Edition 2019, Software Edition 2020 and Internal Hackathons)
Open Innovation Challenge focusing on AatmaNirbhar Bharat Abhiyan
Industry Projects Competition, exclusively for the final year students undertaking industry projects
12th National Olympics: Theme – Shaping Future Mobility
TAFE Idea Generation Workshop – Create new concept of self-adjusting mechanism in Tractor Braking system
Bonjour India Easy Ride Prototype & Design Competition: Theme – Smart & Sustainable Transportation
Industry Academia Summit 2020: Panel Discussion on the topic Industry – University Engagement post COVID19.
International Student Car Competition, South Korea – Vel Tech Rangarajan Dr Sagunthala R&D Institute of Science &Technology, Chennai, the only University from India won the Best of Best under the category "Creative Technology" for the second time in 2018 in the International Student Car Competition that was held on 18th and 19th May 2018 in South Korea.
Message from Dean Industry Relations
VEL TECH has signed more than 178 Memorandum of Understandings with various industries, which includes large industries / MNCs / SMEs and research institutes, nurturing an eco-system of Innovation /Research/Knowledge Transfer by bringing together the industries and the Academia. Vel Tech has a dedicated team of Faculty drawn from different disciplines to facilitate industry association with more than 3119 industries located all over India, enabling two-way flow of Knowledge & Resources. Industry relations identifies students and faculty matching the specific problems of the industries/ transforming the problems to Research initiative culminating in establishing an innovation hub of Industry Academia collaboration. Joint centre of excellence Facilities are created in collaboration with industries, promoting avenues for research initiatives for Faculty / Research Scholars in contemporary areas of Research for stronger impact.
| | | |
| --- | --- | --- |
| S.No | Name of the Organisation | Location |
| 1 | Anicha Digital Infrastructure Pvt Ltd | Chennai |
| 2 | Boston IT Solutions (India) Private Ltd | Bangalore |
| 3 | Brahmastra Aerospace Systems | Chennai |
| 4 | Haritha Techlogix | Chennai |
| 5 | India Pistons Limited | Chennai |
| 6 | MedCuore Medical Solutions Pvt Ltd | Chennai |
| 7 | Pentagon Rugged Systems (India) Private Limited | Hyderabad |
| 8 | Pyroferous Technologies | Chennai |
| 9 | Scermlind Healthcare Innovations Pvt Ltd | Chennai |
| 10 | Vaayusastra Aerospace Private Limited | Chennai |
| 11 | WindStream Energy Technologies India Pvt.Ltd | Hyderabad |
| 12 | NVIDIA Graphics Private Limited | Chennai |
| 13 | Sri Ramachandra University | Chennai |
| 14 | UiPath Academic Alliance | Chennai |
| 15 | Greaves cotton Limited | Chennai |
| 16 | SAP India Private Limited | Chennai |
| 17 | Automotive Research Association of India & Global Automotive Research Centre | Pune & Chennai |
| 18 | Automotive Skills Development Council | New Delhi |
| 19 | Dassault Systems | France |
| 20 | T.I.M.E Education Chennai Pvt.Ltd | Chennai |
| 21 | Automotive Research Association Of India | Pune & Chennai |
| 22 | HMT Machine Tools Limited | Bangalore |
| 23 | Modem Communication and Broadcast Systems | Gujarat |
| 24 | National Insitute of Wind Energy, Chennai | Chennai |
| 25 | Novateur Electrical & Digital Syatems Pvt Ltd | Chennai |
| 26 | Schizophrenia Research Foundation | Chennai |
| 27 | Wheels India Limited | Chennai |
| 28 | Fluid Control Research Institute | Palakkad |
| 29 | Rectifiers & electronics PVT LTD | New Delhi |
| 30 | UCAL JAP | Chennai |
| 31 | Wabco India Limited | Chennai |
| 32 | Center for Development of Advanced computing | PUNE |
| 33 | Francecol Technology | Chennai |
| 34 | Kwality Photonics Pvt Ltd | Hyderabad |
| 35 | Addison & Co. Ltd | Chennai |
| 36 | National Small Industry Corporation Limited | Hyderabad |
| 37 | UCAL FUEL SYSTEMS LIMITED | Chennai |
| 38 | Institute of Rail Transport | New Delhi |
| 39 | Tractors And Farm Equipment Limited | Chennai |
| 40 | Coimbatore Industrial Infrastructure Association | Coimbatore |
| 41 | Keltron Limited | Kerala |
| 42 | SAIL Ministry of Steel Govt of India | Ranchi |
| 43 | Composite Technology Park | Bangalore |
| 44 | Global Automotive Research Centre | Chennai |
| 45 | The Central Institute of Road Transport | PUNE |
Industry Collaborated Programme
| | | | |
| --- | --- | --- | --- |
| Sl. No. | Industry Collaborated Programme | Name of the collaborating Industry | Duration |
| 1 | B.Tech Programmes in Mechanical Engineering (Specialization in Automobile Engineering) | Automotive Research Association of India, Pune | 4 Years |
| 2 | M.Tech Programmes in Electric and Hybrid Vehicles/ Powertrain Engineering | Automotive Research Association of India, Pune | 2 Years |
| 3 | M.Tech Programmes in IC Engines | Automotive Research Association of India, Pune | 2 Years |
| 4 | M.Tech Programmes in ECE (VLSI and Embedded System Design) | Centre for Development of Advanced Computing, Pune | 2 Years |
| 5 | M.Tech Programmes in Automobile Engineering (Vehicle Engineering and Transport Management) | Central Institute of Road Transport, Pune | 2 Years |
| 6 | M.Tech Programmes in Measurement and Control | Fluid Control Research Institute, Palakkad | 2 Years |
| 7 | M.Tech Programmes in Automotive Mechatronics | Global Automotive Research Centre, Chennai | 2 Years |
| 8 | M.Tech Programmes in Aeronautical Engineering (Unmanned Aerial Vehicle) | Ucal Fuel Systems Ltd, Chennai | 2 Years |
Industry Collaborative Research/ Consultancy
Vel Tech Research Park
Industry Relations office
Block No. 29, 3rd Floor, Room No. 29306