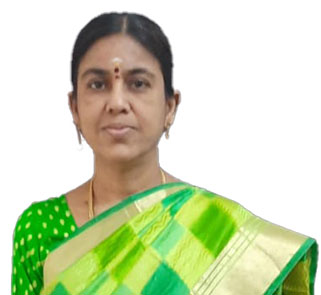 Dr. R. S. Valarmathi
Dean – SOEC
Dr.R.S.Valarmathi received her B.E. (Electronics and Communication Engineering) and M.E.
(Applied Electronics) degrees from Bharathiar University, Coimbatore, in April 1989 and January 2000, respectively. She received her Ph.D. degree at Anna University, Chennai, in the area of Biometrics in 2009. She is presently employed as a Professor in the department of Electronics and Communication Engineering at Vel Tech Rangarajan Dr. Sagunthala R&D Institute of Science and Technology, Chennai. As Dean Quality Assurance, she is responsible for all Accreditations, Rankings, Ratings, etc., awarded by several National and International agencies.
She has 27+ years of teaching experience in various engineering colleges and 15 years of research experience. Her research interest includes Biometrics, Image Processing, Computer Networks and Soft Computing. She has completed AICTE sponsored Research
Promotion Scheme projects to the tune of 15 lakhs. She has produced 11 Ph.D. graduates and presently having five research scholars to her credit under Anna University, Chennai. She is the Life Member in Indian Society for Technical Education (ISTE), Life Member in Institution of Electronics and Telecommunication Engineers (IETE), Member in Institution of Engineers (IE) and Member in Institution of Engineering and Technology (IET). She has published 125 research articles in International and National Journals, 105 research articles in International and National Conferences in the fields of Image Processing, Biometrics, Networks, VLSI, and Cloud Computing. She received ISTE Periyar Award for Best Engineering Teacher, Best Faculty Award under Senior Category from Nehru Group of Institutions, Coimbatore with a cash award of Rs.10000, Best Administrator Award from Dr.Kalam Educational Trust, Chennai and many Best Paper Awards.
She is the expert committee member for Autonomous Audits, Academic Audits, NAAC and NBA Audits. She has organized many International and National Level Conferences, Seminars, Workshops and Faculty Development Programs. She has travelled to many states across the country and also to overseas viz., Dubai, Singapore and Sri Lanka for various academic assignments.
E-Mail: [email protected]