Admissions are available for all the Academic programmes at Vel Tech. These Academic programmes are structured around seven Schools of study with Undergraduate, Post Graduate, and Doctoral programmes. Interested candidates can pursue the programme of their choice by applying online or by visiting the Vel Tech Admission office.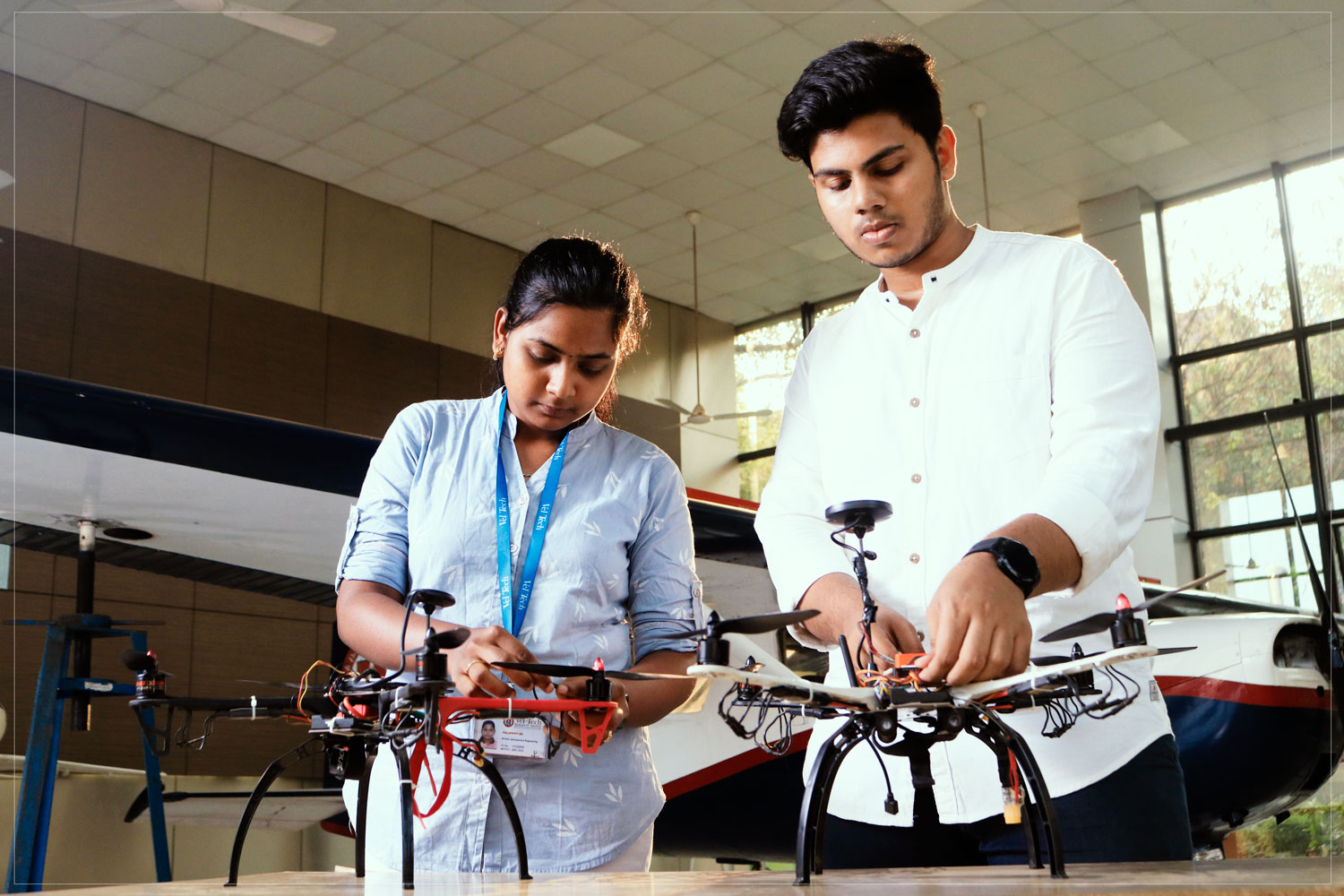 Post Graduate
In this 21st century, Vel Tech believes in equipping its students to be knowledge driven.
International Admission
The International Industry/Organisation/University relationships of Vel Tech has enabled the admissions of students from different Countries to pursue their education in Vel Tech. The curriculum is of International standard, ensuring that all the students have the opportunity to experience a truly Global education
Vel Tech offers Industry collaborated programmes and Industry recommended electives, enabling students to be equipped as per Global Industry demands with proficiency in advanced Technological areas.
Ph.D. Admission
Research at Vel Tech aims to develop innovative solutions for addressing the needs of the society. The Research efforts are enhanced through collaborative relations with the leading Research Institutions and consortia around the World.
CAMPUS ADDRESS
EAST ENTRANCE
No.42, Avadi-Vel Tech Road,
Avadi, Chennai – 600 062
Tamil Nadu, India.NORTH ENTRANCE
400 feet Outer Ring Road,
Avadi, Chennai – 600 062
Tamil Nadu, India.
Toll Free : 1800 3070 6949
Email : [email protected]
CHENNAI HEAD OFFICE
'Santhi Sudha',
38,ABM Avenue,(Opp. Crowne Plaza Hotel),
R.A.Puram,Chennai – 600 028
Tamil Nadu,India.
Phone : 044-2433 4845, 2433 5828
Toll Free No : 180030706949
Email : [email protected]
CHENNAI ADMINISTRATIVE OFFICE
34, Gandhi Mandapam Road
(Next to SBI),
Kotturpuram,Chennai – 600 085,
Tamil Nadu,India.
Phone : 044-4306 6864, 4503 0136
Email : [email protected]
INFORMATION CENTER
HYDERABAD REGIONAL OFFICE -1

Door No : 8-2-161,5th Floor,Dynamic Chambers,
Lane next to PVR NEXT GALLERIA MALL,
Srinagar Colony Road,opp to Metro Railway Station,
Panjagutta,Hyderabad,
Telangana – 500 082

Mobile : 089776 38326
Email : [email protected]

HYDERABAD REGIONAL OFFICE -2

Plot No.: 404,
Pavani Estate,Road No. 2,
Banjara Hills, Hyderabad – 500 034
Telangana.
Phone : 040 – 6524 6025
Email : [email protected]

NELLORE REGIONAL OFFICE

D.No. : 16-1-190 & 187 ,
II Floor, Opp. Nirmala Agencies,
A.C. Centre, Trunk Road,
Nellore – 524 001
Andhra Pradesh.

Mobile : 086123 09444, 77999 04941
Email : [email protected]

RAJAHMUNDRY REGIONAL OFFICE

D.No. : 36-10-27, II Floor,
Syamala Theatre, Stadium Road Corner, T.Nagar,
Rajahmundry, East Godavari – 533 101
Andhra Pradesh.

Mobile : 082200 92465
Email : [email protected]

TIRUPATI REGIONAL OFFICE

NO:22 9th Ward Opp:
Seicom Degree College,
New Maruthi Nagar,
M.R. Palli,
Tirupathi – 517 501
Andhra Pradesh.

Contact Number : 07799904938
Email : [email protected]

VIJAYAWADA REGIONAL OFFICE

D. No. 39-14-2,
Uttam Towers,II floor,
Opp to Gateway Hotel,
M.G Road,Labbipet
Vijayawada – 520 010
Andhra Pradesh.

Phone : +91-866-2497 255, 355, 455
Mobile : 082200 92469 / 090031 07000
Email : [email protected]

VISAKHAPATNAM REGIONAL OFFICE

D.No. : 47-10-21/18, IV Floor,
Isnar Plaza, Opp. ICICI Bank,
Dwarakanagara Main Road,
Visakhapatnam – 530 016
Andhra Pradesh.

Mobile : 082200 92466
Email : [email protected]

KURNOOL REGIONAL OFFICE

No. 51-14-5A1, I Floor,
Opp. AP Transco,
Near New Bustand, Main Road,
Kurnool – 518 001
Andhra Pradesh.

Mobile : 77999 04940, 7799904938.
Email : [email protected]
REGIONAL OFFICE
No. A 3/2, Vasanth Vihar,
New Delhi – 110 057Phone : 011-26143064
Mobile : 095603 20110
Email : [email protected]
REGIONAL OFFICE
House No. 117/N/76,
I Floor, D7 (Roadside Flat),
Udeay Plaza,
Kakadeo, Kanpur – 208 025
Uttar Pradesh.Phone : 97903 12780.
Email : [email protected]
REGIONAL OFFICE
Kulhariya Palace,
No. 102, First Floor,
Above Bazar India, Beside B.N. College,
Ashok Rajpath,Mobile no.: +919791068989
Patna – 800 004
Bihar.Email : [email protected]