Students Exchange Programme
STUDENTS EXCHANGE PROGRAMME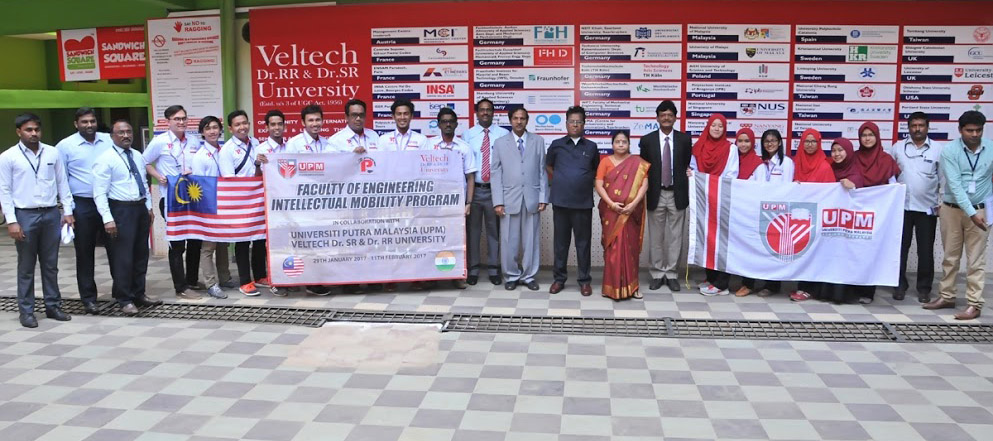 Students registered for a degree programme from a recognized Institute/University and those who are officially sponsored by that Institute/University are expected to carry out Coursework / Research for a period of not exceeding two semesters can be accepted as visiting students under the Student Exchange Program based on the MoU or otherwise.
Students willing to do their thesis/ project work/research work may preferably contact the faculty members in advance to take their approval for guidance and for finalizing the research topic.
Admission of students is subjected to the terms and conditions of MoU / Students Exchange Agreement signed with Vel Tech and the rules and regulation of both the Country/ University/Institution concerned.
No tuition fee will be levied for the Students from partner Universities. Students have to bear the living and personal expenses such as boarding, lodging and travel. Accommodation will be provided in the International Guest House / Hostels on payment basis (approx. Rs.12,000/- per month which includes Airport Transfers, Local Transportation, Food, Wi-Fi, Access to Gym etc).
| | | |
| --- | --- | --- |
| Semester | Duration | Application Deadline |
| Autumn / Odd | July – December | 1st May |
| Spring / Even | January – May | 1st November |
Applications in prescribed format with necessary documents to be submitted to:
Director for International Relations
Vel Tech Rangarajan Dr.Sagunthala R & D Institute of Science and Technology Deemed to be University
400 Feet Outer Ring Road – Avadi, Chennai – 600062.
Tamil Nadu, India.
Email: [email protected]
Exchange programme (UG/PG)
Students are expected to have a proficiency of English. Certificate for English proficiency to be submitted from the Home University.
All students must come under a student visa and not a tourist or entry visa.
Flyer for Incoming Students may be download HERE.
Instructions to be followed, view details
Online Application for Incoming Students Mobility
Student Visa
– Students must enter into India only with the Student Visa. No other visa's will be permitted as per the Immigration rules.
– Student must report to Directorate of International Relations for FRRO procedures
– Immigration procedure :
Vel Tech encourages the UG and PG students to take up one or two semesters at Partner Universities Abroad. Student will be allowed to do Course Work and / or Project Work. In case of work, prior course mapping has to be done through the student's home department Board of Studies. Students may be encouraged to pursue internships in foreign universities /laboratories, and other facilities when such an internship has a clear link to the students' academic or research pursuits. Internships should be pursued during vacation periods.
Procedure to apply:
Exchange programme (UG//PG)
Most of the Partner University typically offer Tuition Fee waiver.
Details of the opportunities and deadline will be sent to the official email IDs of students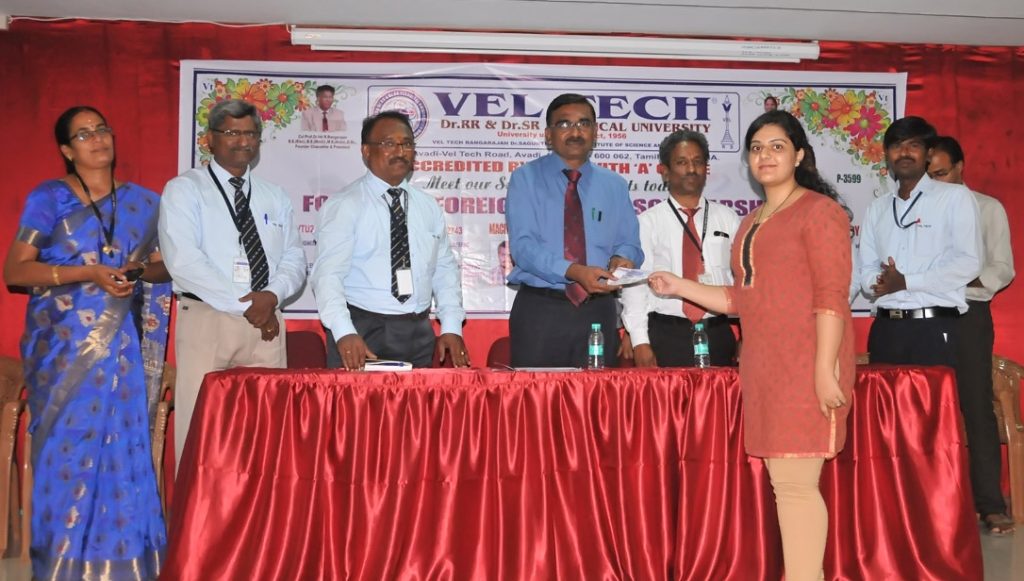 Application Form For Semester Abroad Programme/Project Abroad Programme (Outbound)
Procedure for Course Work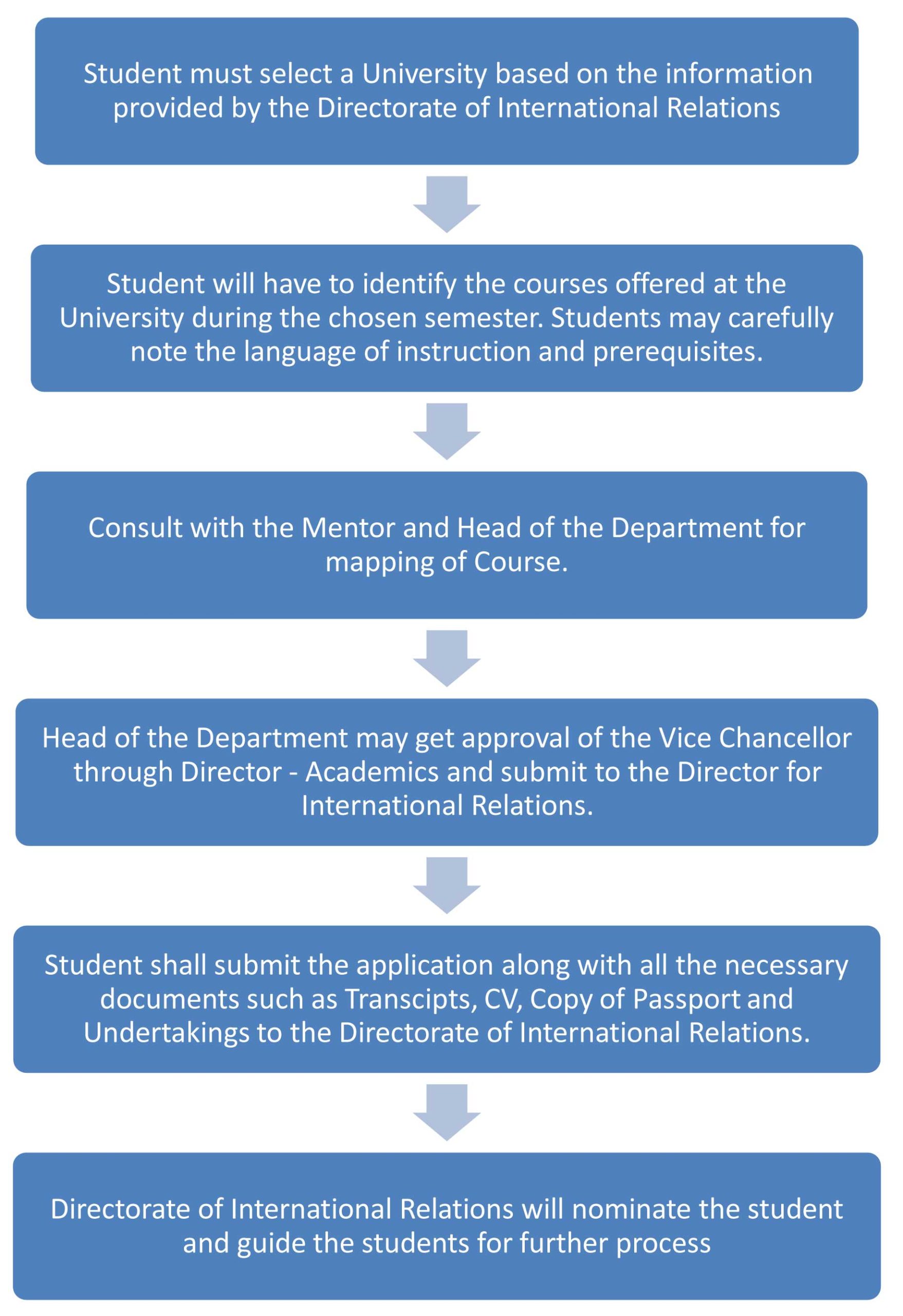 Procedure for Project Work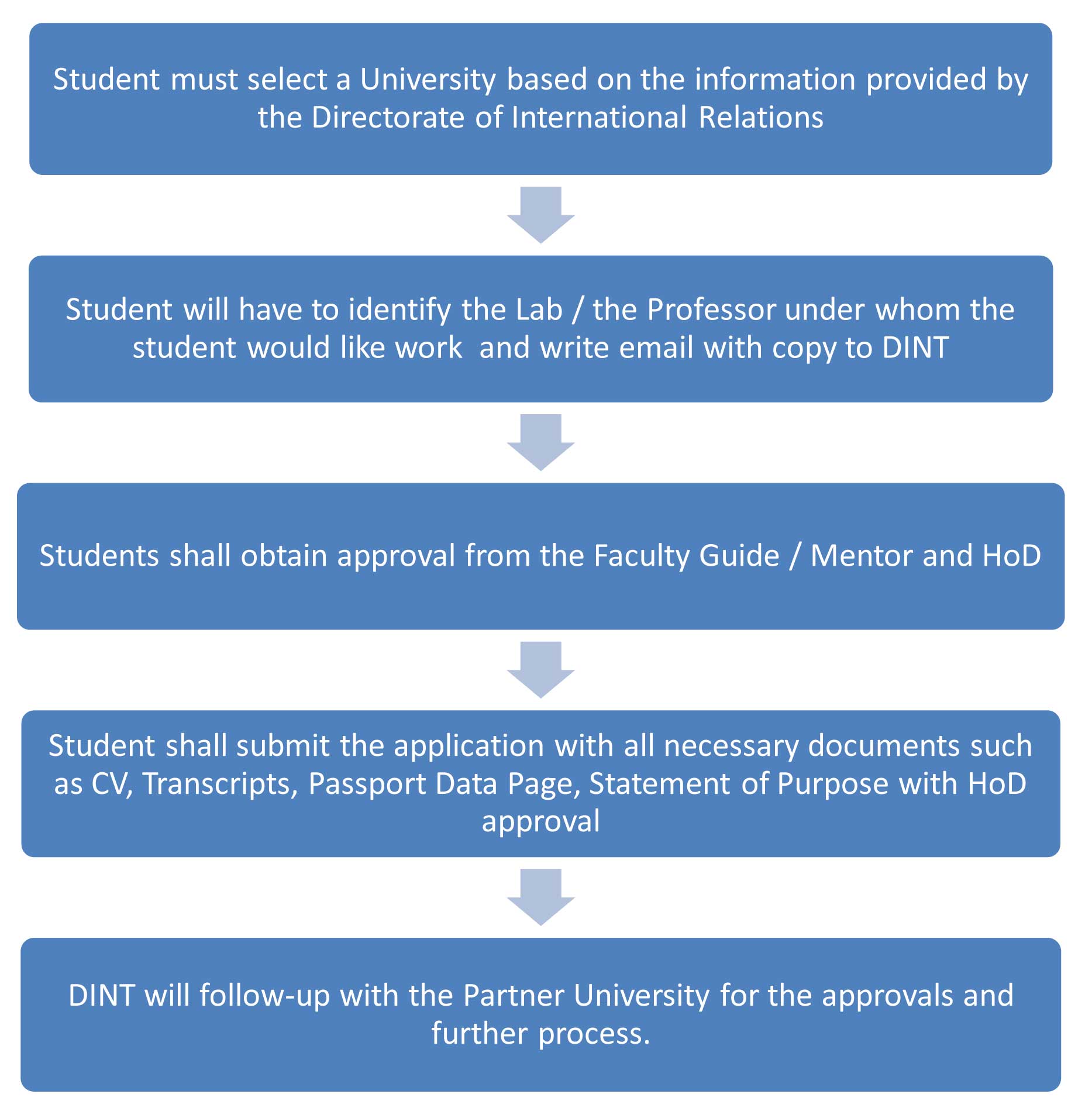 Research Labs for Internships (For Incoming Students)
Students Exchange Programme / Internships Hosted
Research Labs for Internships (For Incoming Students)
High Speed Bearing Test Facility
Automotive Engine Test Facility
E-Waste Management Facility
Aerospace Propulsion Centre
Centre for Industrial Automation
Centre for Autonomous System Research
Composite Research Centre
Metallurgical and Materials Engg Lab
Tinkering / 3D Printing Lab
Material Science Research Lab
Rocket Motor Testing and Aero Propulsion Engine Research Laboratory
Structural Engineering Research Lab
DASSAULT SYSTEMES Centre for Design, Engineering and Manufacturing (CDEM)
Cyber Security Lab
R&D Lab for Innovative Devices (with FranceCol)
Centre for Computational Fluid Flow Modelling
Centre of Excellence on Virtual Instrumentation
Students Exchange Programme / Internships Hosted
Research Internship for UG/PG students at Global Institutions with World class research facilities:
Internship Details: Vel Tech UG students are encouraged/facilitated/sponsored to take up research internship starting from their 6th semester.