Department of Mathematics
The Department of Mathematics was established in the year 1997. The Department has been offering M.Sc. (Maths) and Ph.D. programmes. The department also offers courses supporting to other programmes of B.Tech., M.Tech., M.B.A., M.Sc data analytics, BBA and B.Com. Several courses of the department involve training in software packages so as to augment the computing capabilities of the students. Every semester, the department organizes Faculty Development Programme (FDP) to update the knowledge of the faculty.
Laboratory
The Department of Mathematics facilitates the use of the software's MATLAB, SPSS and R for imparting the integrated courses. Using the software's students learn the programming language, develop coding and visualize them.
SYSTEM CONFIGURATION:
HP 280G2 Desktop Intel
CORE i5, 6th Gen Processor
4 GB RAM
1 TB Hard Disk
5" LCD Monitor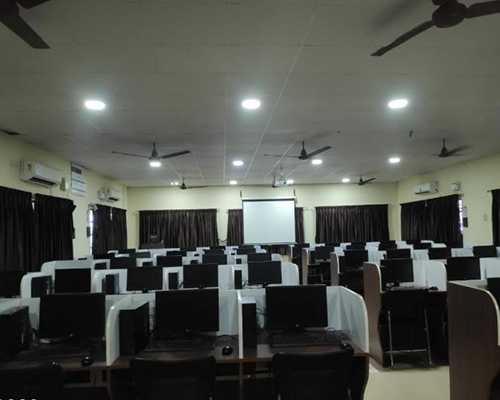 Library
A collection of text, reference books, journals and online resources are available in the central library and in the department library which has more than 500 books.
| | | |
| --- | --- | --- |
| NAME | QUALIFICATION | DESIGNATION |
| Dr. SURESH. M. L | M.Sc., M.Phil., Ph.D. | PROFESSOR & HEAD |
| Dr. VISWANATH. J | M.Sc., M.Phil., Ph.D. | PROFESSOR |
| Dr. SUNDARAPANDIAN. V | M.Sc., Ph.D. | PROFESSOR |
| Dr. CHANDRASEKARAN. E | M.Sc., Ph.D. | PROFESSOR |
| Dr. KALAIVANI. N | M.Sc., M.Phil., Ph.D. | PROFESSOR |
| Dr. NARAYANASAMY. P | M.Sc., M.Phil., Ph.D. | PROFESSOR |
| Dr. BASHEER AHAMED. M | M.Sc., Ph.D. | PROFESSOR |
| Dr. S/Lt. GUNASEKAR T | M.Sc., M.Phil., Ph.D. | PROFESSOR & NCC OFFICER |
| Dr. DORA PRAVINA C.T. | M.Sc., M.Phil., Ph.D. | ASSOCIATE PROFESSOR |
| Dr. D. KANAGAJOTHI | M.Sc., M.Phil., Ph.D. | ASSOCIATE PROFESSOR |
| Dr. J. NARESH KUMAR | M.Sc., M.Phil., Ph.D. | ASSOCIATE PROFESSOR |
| Dr. SHANMUGA PRIYA. R | M.Sc., M.Phil., Ph.D. | ASSOCIATE PROFESSOR |
| Dr. NARMADA DEVI. R | M.Sc., Ph.D. | ASSOCIATE PROFESSOR |
| Dr. MEENAKSHI. A | M.Sc., M.Phil., Ph.D. | ASSOCIATE PROFESSOR |
| Dr. VIJAYALAKSHMI. G.M | M.Sc., M.Phil., Ph.D. | ASSOCIATE PROFESSOR |
| Dr. RAMESH KUMAR. B | M.Sc., M.Phil., Ph.D. | ASSOCIATE PROFESSOR |
| Dr. NEEL ARMSTRONG. A | M.Sc., M.Phil., Ph.D. | ASSOCIATE PROFESSOR |
| Dr. PREMALATHA. M | M.Sc., M.Phil., Ph.D. | ASSOCIATE PROFESSOR |
| Dr. CHANDIRAN. V | M.Sc., M.Phil., Ph.D. | ASSOCIATE PROFESSOR |
| Dr. M. REGAN | M.Sc., M.Phil., Ph.D. | ASSISTANT PROFESSOR |
| Dr. B. KOMALA DURGA | M.Sc., M.Phil., Ph.D. | ASSISTANT PROFESSOR |
| Dr. K. SATHISH KUMAR | M.Sc., M.Phil., Ph.D. | ASSISTANT PROFESSOR |
| Dr. N. NAGADEVI BALA | M.Sc., M.Phil., Ph.D. | ASSISTANT PROFESSOR |
| Dr. K. A. VENKATESAN | M.Sc., M.Phil., Ph.D. | ASSISTANT PROFESSOR |
| Dr. S. SENTHIL | M.Sc., M.Phil., Ph.D. | ASSISTANT PROFESSOR |
| Dr. N. KUMARAN | M.Sc., M.Phil., Ph.D. | ASSISTANT PROFESSOR |
| Dr. NIRANJAN. S.P | M.Sc., Ph.D. | ASSISTANT PROFESSOR |
| Dr. KARPAGAM. S | M.Sc., Ph.D. | ASSISTANT PROFESSOR |
| Dr. NAGALAKSHMI. T | M.Sc., M.Phil., Ph.D. | ASSISTANT PROFESSOR |
| Dr. R. KALA | M.Sc., M.Phil., Ph.D. | ASSISTANT PROFESSOR |
| Dr. B. SOMASUNDARAM | M.Sc., Ph.D. | ASSISTANT PROFESSOR |
| Dr. SENBAGAMALAR. J | M.Sc., Ph.D. | ASSISTANT PROFESSOR |
| Dr. KARTHIK. S | M.Sc., Ph.D. | ASSISTANT PROFESSOR |
| Dr. SELVARAJ. A | M.Sc., Ph.D. | ASSISTANT PROFESSOR |
| Dr. JEEVA. A | M.Sc., M.Phil., Ph.D. | ASSISTANT PROFESSOR |
| Dr. SARAVANAKUMAR. G | M.Sc., M.Phil., Ph.D. | ASSISTANT PROFESSOR |
| Dr. R. SANKAR | M.Sc., M.Phil., Ph.D. | ASSISTANT PROFESSOR |
| Dr. R. NAVANEETHA KRISHNAN | M.Sc., M.Phil., Ph.D. | ASSISTANT PROFESSOR |
| Dr. KAVIYARASU.M | M.Sc., M.Phil., Ph.D. | ASSISTANT PROFESSOR |
| Dr. BALAMURUGAN.M | M.Sc., M.Phil., Ph.D., | ASSISTANT PROFESSOR |
| SREELAKSHMI LINGINENI | M.Sc., M.Phil., | ASSISTANT PROFESSOR |
| HEMALATHA. P.K | M.Sc., M.Phil., | ASSISTANT PROFESSOR |
| SARANYA. P | M.Sc., M.Phil., | ASSISTANT PROFESSOR |
| SIVAPRAKASAM. S | M.Sc., M.Phil., | ASSISTANT PROFESSOR |
S.No
Name of the Event
Date
Recourse Person
1
Two week online International Faculty Development Program (IFDP) on "Current Trends in Applications of Mathematics"
21 September 2022 to 04 October 2022
In this IFDP, there are 4 international deliberates, 24 national deliberates from reputed institute resource persons were delivered their  talks.
2
YOGA Day Celebration – Guest Lecture "Yoga for Humanity"
21 June 2022
Dr. J. Viswanath.
Vel Tech University, Avadi, Chennai.
3
Active Learning Methods – Hands on Experience
20 & 28 March 2022
Dr. J. Viswanath.
Vel Tech University, Avadi, Chennai.
4
FDP on Problemming Techniques using MATLAB.
21,22 February 2022
Dr. Debanand Singdeo
Ms. Devarpita Sinha
Mr. Pratyush Roy
Education Technical Team, Math Works India.
5
Five-day workshop on "Vedic mathematics"
14-18 June 2021
Dr. R. Suresh and
Dr. M. ReganVel Tech University, Avadi, Chennai.
6
Workshop on "Descriptive Statistics Analysis using Excel" for MBA students
15&16 December 2021
Dr. M. Regan
Vel Tech University, Avadi, Chennai.
7
134th Ramanujan Day Celebration – Webinar on "Glimpses of Mathematical Work of SRINIVASA RAMANUJAN"
22 December 2020
Dr.A.M.S. Ramasamy,
Vel Tech University, Avadi, Chennai.
8
FDP on Problem Solving Techniques using MATLAB
23 December 2020
Mr. Amith Kumar
Ms. Spandhana Gonuguntla
Education Technical Cyangelist, Math Works India.
9
Effective Teaching and Learning Practices through  ALM
19&20 December 2018
Dr. J. Viswanath.
Vel Tech University, Avadi, Chennai
10
Guest Lecture on Applications of Mathematics in Engineering
7 April 2018
Prof. O. D. Makinde
Prof. B. Rushi Kumar
11
Introduction to R – Language
29 December 2017
Dr.Mukesh Rayalu,
VIT, Chennai.
12
Talent Search Forum in view of National Science day (Science Fest)
Every year
Department of Mathematics