The Department of English was established since the inception of the Institution, in 2009. It meticulously strives to deliver education in the English language at Undergraduate and Postgraduate levels. The department offers various language development courses for Under Graduate (UG), B. Tech students and for M.A. and Ph.D. programmes. The department endeavours the students to procure proficiency specifically in the required four skills- listening, speaking, reading, and writing and it also enables the students to think critically, communicate efficiently, and write professionally.
To become a quality driven centre in Technical and Communicative English that fosters critical and creative thinking, reading, writing and to be benchmarked both nationally and internationally, and also to promote research activities with industry, national and international laboratories and foreign universities.
Inculcating the desire to become good professionals and grooming them with communication skills and abilities to the expectations of corporate and industrial sectors
Training to adhere to the changing conceptions of language, text, literature and interpretation
Imparting critical and creative thinking; and writing skills as computer practice laboratory for gainful employability
FOUNDATION ENGLISH FOR FRESHMAN ENGINEERING (FME)
INSTITUTE ELECTIVE AND VALUE-ADDED COURSES

Public Speaking
Effective Group Discussion
Stress Management
Autobiography and Memoirs
Soft Skills
Creative Writing
Passionate Leadership
Learning to Learn
Grooming your Vocabs
Moral Values of Thirukkural
Academic Writing
The curriculum for MA English programme has been developed on the basis of UGC Model Curriculum and the syllabus for UGC – Net Examination with choice-based credit system in 2019 with a maximum intake of 30 students.
The programme is designed to serve as a certified qualification to both students aspiring for an autonomous degree as well as for those who intend to advance in the field of research. It is premeditated, keeping in mind the existing importance for Literature and also the emerging trends of English Language Teaching (ELT). This proportioned combination of Literature and ELT amplifies the scope and prospects for students to choose wider range of careers. It provides the knowledge, understanding, research materials, opportunities, skills and techniques for undertaking the programme efficiently. It ultimately aims to produce highly efficient post graduates, who can accomplish a wide range of expertise in the subject. The department comprises of well-qualified and goal-oriented faculty members with many doctorates, whose research expertise includes major frontier areas. To strengthen the efforts of ensuring the employability, the Department proposes to hold annual meetings of Industry –Institute Joint Consultation to identify the specific needs of the industry and update the syllabi accordingly. In an effort to achieve 100% placement, the department endeavours to prepare the graduates industry–ready
Eligibility:
Candidates for admission to the first year of the Postgraduate Degree programme of English shall be required to have passed
Degree from any recognized University with Branch XII- English as the main subject of study B.Sc. or B.Com Degree with part II English
An examination of other Universities accepted by the Syndicate as equivalent thereto shall be permitted to appear and qualify for A. Degree Examination of this University
Programme Educational Objectives
Prepare students for successful practice in diverse fields of English Studies such as Public speaking and speech-writing, rhetoric, composition studies, creative writing, philology and etymology, journalism, poetry, publishing, literacy, area studies etc.
Exercise English language skills and literature knowledge in the selected career in industries and organizations
Instigate the students with professional conversation in English by connecting it to diverse eras and cultures. The motto is to provoke and support their intellectual curiosity in terms of valuing literature, language, and imagination.
Refine the range of judging the aesthetic and ethical value of literary texts among students and prepare them to persuade the standards behind judgments.
Pursue higher education, research, and progress in the English Language teaching and Literature realm.
Programme Outcomes
Mastering the language and Linguistic Proficiency: Master the English language skills and varieties to apply unequivocally in the expressive frameworks through literature and criticism. Acquire essential linguistic proficiency to excel in different appropriate realistic situations.
Acquire Language and Communicative Skills: Promote individuals' language skills to meet corporate and professional needs. Facilitate the students to acquire communicative skills to meet global competitions and challenges.
In-depth Knowledge, Evaluation and Appreciation: Equip the learners with an in- depth knowledge of a wide spectrum of genres and writers. Enable graduates to critically evaluate and appreciate literary work of different ages.
Learning methods: Learn different methods of curriculum design and pedagogies of teaching.
Understanding Approaches and Unbiased Criticism: Understand foremost trends, activities, and '-isms' and diverse language approaches. Mould into complete literary reviewers with a worthy outlook towards unbiased criticism and impartial judgments.
Higher Education and Research: Provide a good formal base for higher education, advanced degree, and quality research, ensuring substantial advancement of the language on the whole.
Contribute to Growth: Contribute to the growth of the nation and society by applying the acquired knowledge in translation, interpretation skills etc.
CREDIT DISTRIBUTION
| | | |
| --- | --- | --- |
| S.No. | Courses | Credits |
| 1 | Programme Core | 48 |
| 2 | Programme Elective | 12 |
| 3 | Seminar/Internship | 4 |
| 4 | MOOC/ Independent | 20 |
| 5 | Life Skills | 4 |
| 6 | Institute Elective | 6 |
| 7 | Extension Activities | 4 |
| | | 94 |
CAREER PROSPECTS
Teaching – School, College and University
BPOs and KPOs
Publishing – Content writing, Editing, Proof reading, Translation, Blogging, Copy editing, Copy writing
Theatre, Media and Entertainment
Training –Verbal training for competitive exams, Communication training
Advertising and Public Relations
Journalism
In the School of Science and Humanities the department of English has the majority of research scholars. It has six authorized research supervisors with strong research background. Ph.D. Scholars have been pursuing research since the inception of the department in 2011. Even the scholar strength was less initially, at present, 24 research scholars pursuing their research in the department. Over the years, our scholars have been able to prove their skills in academic field through the research experience they have gained in Vel Tech.
The Department of English represents a wide variety of scholarly and critical approaches to the study of Literature and English Language Teaching. The research undertaken by the scholars connect literature with history, myths, art history, political philosophy and theory, and literature in other languages, as well as the contemporary interdisciplines such as gender studies and cultural studies. Strong in the history of the book, we study the changing media environments of the written word and the arts of writing, from the periods before printing to the digital age. The Department of English aims to help deepen scholars' insights into their own experience and to develop their ability to express their ideas through their presentations and publications
AREAS OF RESEARCH
English Language Teaching
British Literature
American Literature
Indian Writing in English
African Literature
Dalit Literature
Turkish Literature
Myths
Women and Food Studies
Diaspora
Digital Humanities
Film Studies
Indian Drama
Psychoanalytical Studies
Feminism
Linguistics
Computational Linguistics
Translation Studies
English for Specific Purposes
APPROVED RESEARCH SUPERVISORS
| | | | |
| --- | --- | --- | --- |
| S.No. | Name | Qualification |       Area of Specialization |
| 1 | Dr. M R Bindu | M.A., M.Phil., Ph.D., |  INDIAN LITERATURE |
| 2 | Dr. R. Udhaya Kumar | M.A., M.B.A., M.A., P.G.D.C.S., Ph.D., | ENGLISH LANGUAGE TEACHING |
| 3 | Dr. A. Prakash | M.A., M.Phil., Ph.D., | AMERICAN LITERATURE |
| 4 | Dr. P. Saranya | M.A., M.Phil., Ph.D., |  DIASPORA |
| 5 | Dr. Ramesh M | M.A., B.Ed., M.Phil., Ph.D., |  ENGLISH LANGUAGE TEACHING |
| 6 | Dr. Murugavel S | M.A., M.Phil., Ph.D., | DALIT LITERATURE |
PH.D. ELIGIBILITY
NATIONAL ADMISSION
The eligibility for admission into Ph.D. programmes is MA or M.Phil or any other qualification in the relevant branch of Science and Humanities.
The candidate should obtain minimum of 55% marks or CGPA of 0 on a 10 point scale in the qualifying examinations, or its equivalent grade 'B' in the UGC 7-point scale or an equivalent degree from a foreign educational Institution accredited by an Assessment and Accreditation
A relaxation of 5% of marks, from 55% to 50%, or an equivalent relaxation of grade, may be allowed for those belonging to SC/ST/OBC (non-creamy layer) / Differently-Abled and other categories of candidates as per the decision of the Commission from time to time.
INTERNATIONAL ADMISSION
The eligibility for admission of an international candidate into Ph.D. programme is MA or M.Phil. or any other qualification in the relevant branch of Science and Humanities.
The institute of the foreign applicant must be included in the list of the Association of Indian Universities (AIU), New Delhi – 110002 (http:// www.aiuweb.org). Incase the University / Board is not included in the said list, the candidate has to obtain and submit an equivalence certificate to this effect from the Association of Indian Universities
DURATION
The duration of the programme and the time for submission of thesis are counted from the date of registration
The minimum duration of the programme in Science & Humanities for Full-time/ Part-time shall be four/five years (scholars of 2021 regulations). For M.Phil Degree holders, the minimum duration shall be two years if the scholar comes under 2016 regulations and three years for the candidates who come under 2021 the maximum duration shall be additional three years
Extension of required period not exceeding two more years may be permitted by Vice-Chancellor under genuine reasons with recommendation of Research Advisory If permission is granted, the scholar has to get re-registration with the prescribed fee.
The women candidates and persons with disability (more than 40%, disability) may be allowed a relaxation two years for Ph.D. in the maximum duration. In addition, the women candidates may be provided maternity leave/ child care leave once in the entire duration of Ph.D. up to 240 days.
If the scholar will complete the requirement earlier than the prescribed period, the Vice-Chancellor may permit for an early submission of synopsis and thesis before six months provided the request is justified and substantiated by commendable research work with high quality
ENGLISH LANGUAGE LABORATORY
Communication skills are an indispensable component of the educational purview. The English department imparts communication skills with the help of a language laboratory a dedicated space for foreign language learning.
The language laboratory helps the students to acquire sensitivity to distinct sounds and rhythm of a language by accessing audio or audio-visual materials. It provides adequate exposure to the best samples of the language to use it appropriately in different contexts in the real life. The department of English provides a comfortable atmosphere to learn a language with greater exhilaration and delight. It helps the students in giving exposure to native accents, practice, and also provides space to correct oneself. The constant practice of listening and speaking is the ultimate goal. It is a place where the functional use of the language is completely experienced by the students. It helps in the holistic development of individuals by providing practice in acquiring the four language skills namely listening, speaking, reading, and writing. It also reinforces the students to participate effectively in interactive learning activities. It enables the students to accelerate the process of improving language skills with more emphasis on LSRW and enriches a high degree of proficiency in the English language. The language lab boosts the motivation of students to achieve language retention and progress. Our Language laboratories are supported by the following software packages:
I-Tell/ Orell – 200 users
Globarena – 60 users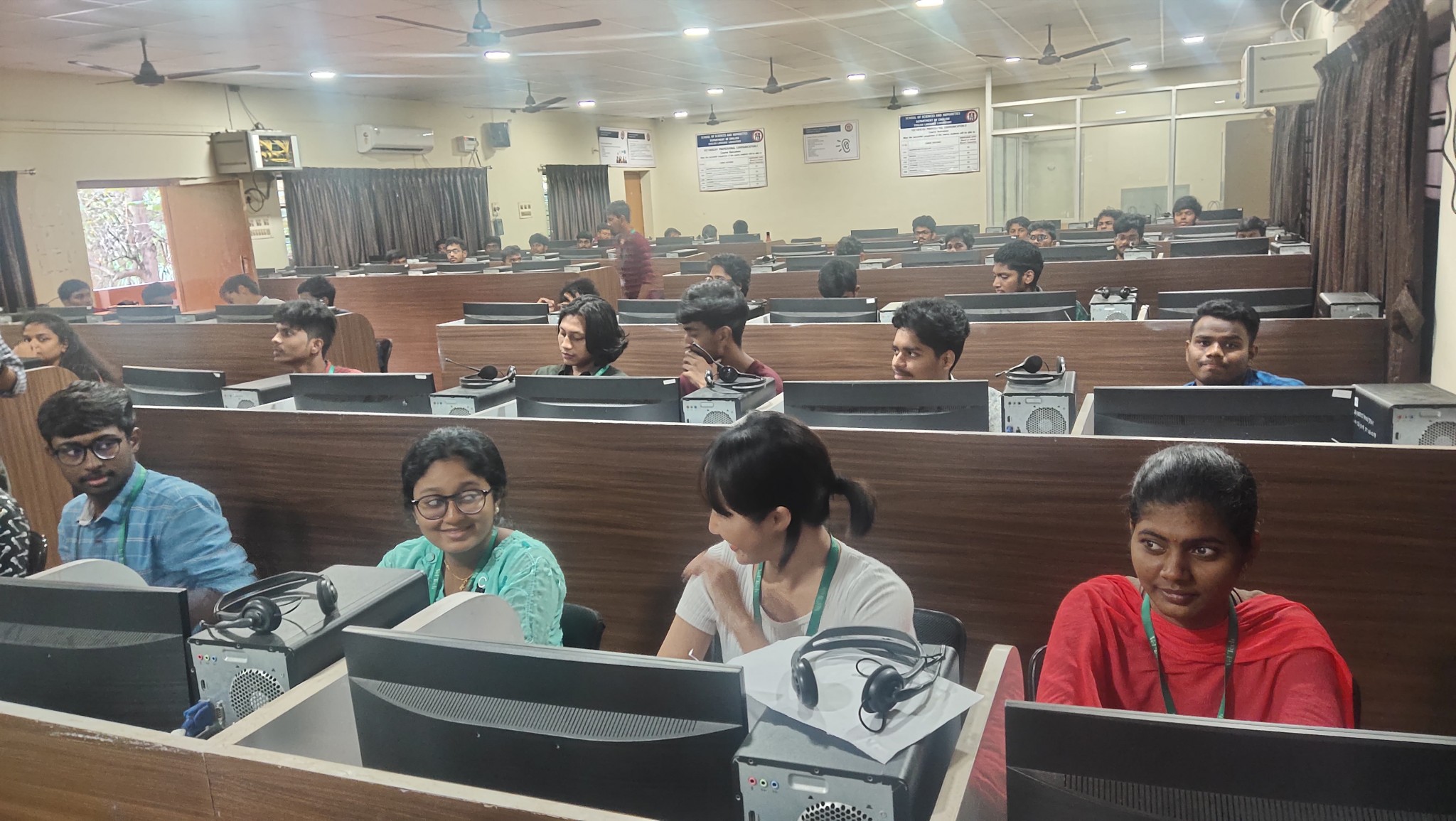 | | | |
| --- | --- | --- |
| NAME | QUALIFICATION | DESIGNATION |
| Dr. BINDU. M.R | M.A., M.Phil., Ph.D. | PROFESSOR & HEAD |
| Dr. UDHAYA KUMAR. R | M.A., Ph.D. | ASSOCIATE PROFESSOR |
| Dr. PRAKASH. A | M.A., M.Phil., Ph.D. | ASSOCIATE PROFESSOR |
| Dr. P. SARANYA | M.A., M.Phil., Ph.D. | ASSISTANT PROFESSOR |
| Dr. P. REVATHI | M.A., M.Phil., Ph.D. | ASSISTANT PROFESSOR |
| Dr. RAMESH. M | M.A., M.Phil., Ph.D. | ASSISTANT PROFESSOR |
| Dr. S. MURUGAVEL | M.A., M.Phil., Ph.D. | ASSISTANT PROFESSOR |
| Dr. MANIKANDAN. A | M.A., M.Phil., Ph.D. | ASSISTANT PROFESSOR |
| Dr. M. VINOTHKUMAR | M.A., M.Phil., Ph.D. | ASSISTANT PROFESSOR |
| Dr. YAMINI. G | M.A., M.Phil., Ph.D. | ASSISTANT PROFESSOR |
| Dr. BAIRAVI. B | M.A., Ph.D. | ASSISTANT PROFESSOR |
| Dr. RAJESWARI. A | M.A., M.Phil., Ph.D. | ASSISTANT PROFESSOR |
| VIMOCHANA. M | M.A., M.Phil., | ASSISTANT PROFESSOR |
| ANGALA PARAMESWARI. D | M.A., M.Phil., | ASSISTANT PROFESSOR |
| LAVANYA. B | M.A., M.Phil., | ASSISTANT PROFESSOR |
| CHRISPIN ANTONIETA DHIVYA. A | M.A., M.Phil., | ASSISTANT PROFESSOR |
| PRIYADARSHINI. M. C | M.A., M.Phil., | ASSISTANT PROFESSOR |
| SIVA. R | M.A., M.Phil., | ASSISTANT PROFESSOR |
| PREETHI. N. R | M.A., M.Phil., | ASSISTANT PROFESSOR |
| RAJA RAMAN. S | M.A., M.Phil., | ASSISTANT PROFESSOR |
| MOHAMED FAIYAZ. F | M.A., M.Phil., | ASSISTANT PROFESSOR |
| SUSHMITHA. M. S | M.A., M.Phil., | ASSISTANT PROFESSOR |
| JERIN AUSTIN DHAS. J | M.A., M.Phil., | ASSISTANT PROFESSOR |
| Dr. D. RAMAIYAN | M.A., M.Phil., Ph.D. | ASSISTANT PROFESSOR |
ACADEMIC AND ASSOCIATION ACTIVITIES
PATENT FILED:

The Impact of Social Media on Student's Education – Dr. Murugavel S, Assistant Professor.

BOOKS PUBLISHED:

Beyond the Boundaries: Literary Craftmanship of Bharati Mukherjee – Dr. P. Saranya and Dr. P. Revathi, Assistant Professors.
Ethnic Pluralism and the Politics of Difference: Multiculturalism in the Select Novels of Amitav Ghosh – Dr. Ramesh. M, Assistant Professor.
Decoding the Political and Social: Richard Wright and the Harlem Renaissance – Dr. Prakash. A, Associate Professor and Dr. Ramesh. M, Assistant Professor.
Research Methodology – Dr. R. Udhaya kumar, Associate Professor.
Machine Learning for Absolute Beginners – Dr. R. Udhaya kumar, Associate Professor.
Professional Communication – Dr. P. Saranya, Dr. P. Revathi and Dr. M. Vinoth Kumar, Assistant Professors.
"A Room without Books is like a body without a soul"
                -Marcus Tullius Cicero, (a Roman academic sceptic, philosopher and statesman.)
The department holds a varied collection of books pertaining to language, literature and research. We have a total of 670 books that caters to the academic need of the students and the faculty members
Bindu M.R., Professor and Head received the prestigious Academic Award from Red Talks International on the eve of International Mother Language Day.
Saranya P, Assistant Professor received Excellence in English Teaching award from ARIO, powered by Ministry of MSME and Corporate Affairs.
R Udhaya Kumar, Associate Professor was awarded with Young Academician Award from ESN Publications.
M. Vinoth Kumar, Assistant Professor was awarded medal of Honour for his contribution to India Book of Records.
Dr. M.R.Bindu Professor and Head Department of English
Vel Tech Rangarajan Dr. Sagunthala R&D Institute of Science and Technology
Avadi, Chennai-600 062.